Acorn 6.5, MacOS Catalina Updates, and More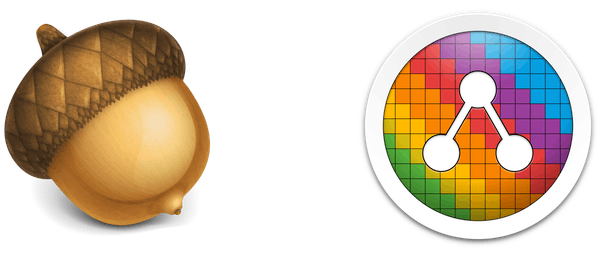 Hello again, it's Gus and Kirstin from Flying Meat, makers of Acorn, Retrobatch, and other Mac apps you've probably bought and used in the past. It's been awhile since our last email, and we've got some news to share.
Acorn is on Sale for 50% Off-
It's a MacOS 10.15 Catalina Celebration!
MacOS 10.15 Catalina was released this past Monday (surprise!), and we're celebrating by
selling our image editor Acorn for only $14.99
. You can save even more if you purchase Acorn and
Retrobatch
together from our online store.
If you've been waiting for a chance to upgrade at a discount, you have until October 31st. So
get on it
, this sale isn't going to last forever. And make sure to tell your friends too!
Acorn 6.5
This past summer we released an update to Acorn,
version 6.5
, and it's got some great new stuff in it. Change image resolution while cropping, adjust the clone tool opacity, and feather selections right in the palette. You'll also find frequently requested conversion improvements between metric and imperial units, PDF import improvements, and more.
In addition to these new features, previous updates brought a dark mode to MacOS Mojave, Portrait Mask support, layer mask improvements, a new brushing engine, indexed PNGs, and improved curves filters.
Check out the full release notes
for the complete list of new features, changes, and fixes.
Acorn 6.5
is a free update to everyone who's already purchased any previous version of Acorn 6. It's available both via the
Mac App Store
, as well as
our website
.
MacOS 10.15 Catalina Support
Acorn 6.5.1 and Retrobatch 1.2 are both supported on MacOS Catalina. Our applications use the 64 bit runtime so the transition away from 32 bit apps wasn't a problem (and in Acorn's case- it has supported 64 architectures for over a decade!). There were a few graphics glitches here and there to clean up, which is pretty usual for system updates.
Retrobatch 1.2 and the Next Update
Back in April we released an update to Retrobatch, our batch image processor, with some useful new nodes. You can now set Finder tags, create animated GIFs, turn your workflow into a droplet, as well as create and distribute your own nodes using JavaScript. This last feature is really exciting, because it allows us to prototype new nodes between releases and gather feedback on them.
Retrobatch 1.3 will be released in the next few weeks and it includes new nodes such as Vignette, Gradients, Remove Specific Metadata, and a Duplicate node. It also includes improvements to existing nodes such as a token in the Write Node for writing back to an images' source folder, page number tokens, and more. The Trim to Edges node has new options for selecting specific colors while trimming, or using whatever the dominant edge color is.
Learn more about
Retrobatch from its website
, and don't forget to check out the
Retrobatch forum
to learn more about the creative ways folks are using Retrobatch.
Where to find us
If you ever run into problems or have questions, the best way to get ahold of us is via our
support email
. But we also have
forums online
if that's more your style, as well as Twitter accounts for
Acorn
,
Retrobatch
, and
Flying Meat
.
Thanks for being our customer!
-Gus, Kirstin, & Madeline Mueller